'Healing the Source'
New Book by Kerrie Redgate
I began writing an enormous tome about my work and research in 1998. I eventually found I'd written more than 500,000 words! 
Waaaay  too much for a single volume !
So I've spent recent years reorganising the manuscript into a series of books. This has been possible due to the invention of the instant ebook download within the indie-author revolution where each volume can be published concurrently without the one-year lag between them, which occurs with traditonal publishing. That typical delay had initially put publishing a series, rather than a single book, out of the question for me, as my reseach is an entegrated whole.
This means I now have a single volume dedicated to flower essence therapy close to publication in early 2018 (or earlier, depending on a couple of the companion volumes in the first series roll-out).
I've also decided to share some of my complex flower essence formulas within this book, explaining my choices for the design of some of the most useful ones.
In covering the history of flower essence therapy in the West, from Dr Bach onwards, I  compare some of Bach's ideas to the way you can use flower essences today to enhance your life now.
And most importantly, I describe in detail my personal research on how flower essences actually work, including the significance of the healing powers and consciousness within the plant kingdom, as recognised by both Western scientific methods and the traditions of Asia.
The initial launch of each of the books will be exclusively in ebook format, followed swiftly by a second launch in the paper version.

BUT FIRST ! — As it is easy for me to forget all my own early questions from 30 years ago — questions that had led to my discoveries — I have created an online Series Queries survey form (via Typeform), so that you can now ask me any questions you may have about flower essence therapy (or any of the topics of my other books in the series — see  The Books Series page on my Kerrie-Redgate.com site for details).  I can then include the answers to your queries in my books, to benefit everyone.
Ask me here:
Be notified when 'Healing the Source' is launched!
The 'Exceptional Purpose Resource'
Kerrie Redgate's e-newsletter:
Includes a series of flower essence formula exposés
plus other useful information on the rest of my research,
and exclusive 'RESOURCE GUIDES' for subscribers only
( If you'd missed my slide-up 'subscribe me' form! )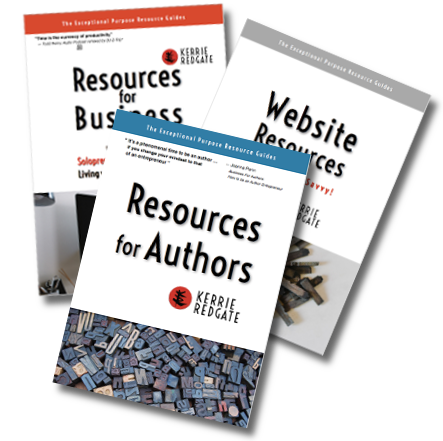 CONTACT
Mobile Phone: +61.431325577
PO Box 764 New Farm Qld 4005 Australia
Email Kerrie HERE